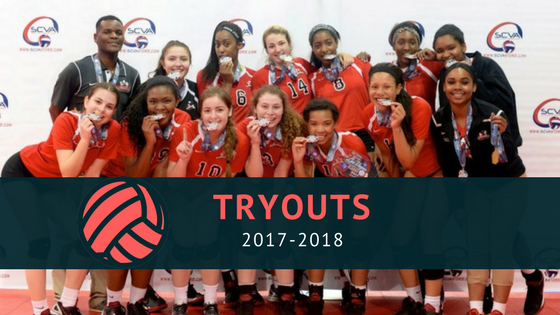 11s, 12s, 13s
September 23 (Sat): 8-11am and 1-3pm
September 24 (Sun): 1-2:30pm
14s, 15s
September 30 (Sat): 8-11am and 1-3pm
October 1 (Sun): 9-12pm
16s, 17s, 18s
October 7 (Sat): 8-11am and 1-3pm
October 8 (Sun): 9-12pm
$75 Tryouts Fee
(No Refunds)

Tryouts Check-In Process
NTR Membership

– Provide a copy of your current USAV-NTR membership showing an Oct 2018 expiration at check-in. Select Unaffiliated for your club until after signing at tryouts.
USAV Medical Release

– Provide a completed USAV Medical Release at check-in. Travel teams will require a notarized form.
Proof of Age

– Provide a copy of one of the following at check-in: player's birth certificate, player's passport or player's driver's license.
Offers and Acceptance

– Offers will be made at tryouts. You will have up to Sunday at noon to accept. The first installment will be required at the time of acceptance. You will need your login information (same as what you used to register for tryouts) to make your 1st installment, and complete acceptance paperwork.