Happy Holidays Blocksport,
We hope you all are enjoying the season so far. We are celebrating our 5th year as a club and still treasure seeing each of you grow. The holidays are our favorite time of the year. As parents we look forward to spending time with our children and catching up with extended family. Yet Blocksport always remains on our mind even when we are away from the gym.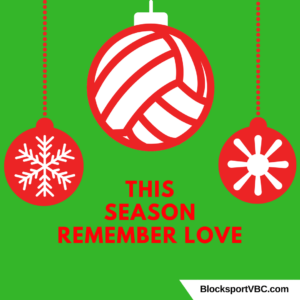 The world has been tense this year. Many of you may feel uneasy and perhaps divided. Despite everything, Blocksport remains a club devoted to family ideals and rooted in love. Yes, we are a business. But we are a business with heart. This season it is our sincere wish for staff, players and parents to remain vigilant in showing one another love. What does that mean? To love you must put others before yourself, remain compassionate and practice patience. There will certainly be rough spots on the court. When those challenges arrive please remind yourself that we are all working toward one common goal. Winning is great. But our ultimate goal is to enjoy ourselves. If we are not enjoying the sport of volleyball and growing then what is the point? The bonds we create at Blocksport are some that you will carry with you for a lifetime!
Keep these things in mind as you journey into club season. We look forward to seeing your success!
With love,
Tonia & Dennis Price
Blocksport VBC