Vertical Jump Program 2017

Ages 12 – 18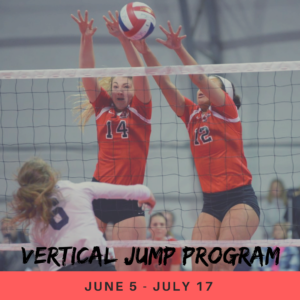 The complete Vertical Jump Program, geared towards improving the vertical a minimum of 4 inches higher based on our unique and proven principle, "jump training", while also increasing your speed and explosiveness. Jump training uses your body weight paired with the 8 unique jump training exercises specifically designed to attack your legs at different angles isolating the muscles designed especially for jumping. By precisely executing the exercises and following the 3 day per week workout, your leg muscles develop an unconscious pattern of behavior, a vertical jumping pattern, which allows you to effortlessly increase your jumping ability to a level that will absolutely surprise you.
This program focuses on:
Increasing Vertical Jump
Quick Twitch Muscles
Strength, Agility and Conditioning
Arm Swing
Nutrition
Explosion
Footwork
Speed
Some results may vary based on athlete's participation.
June 5 to July 17
Monday, Tuesday, Thursday
Notes: The gym will be closed on Tuesday, July 4. The make up day will be Monday, July 17.
Minimum of 2 players and maximum of 4 players per session, with sessions starting on the hour.
9:00am – Full
10:00am – Full
11:00am – Full
1:00pm – Full
12:00pm – Full
2:00pm – Full
4:00pm – Full
5:00pm – Full
6:00pm – Full
7:00pm – Full
$390

Per Player
No Refunds
No Walk-Ins
No Make-Up Days
Questions?
Contact admin@blocksportvbc.com